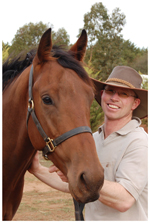 In mid 2010, Anthony was offered a fantastic position which would help the stable establish itself in the UK and he and the whole family moved lock, stock and barrel half way around the world.
Unfortunately circumstances beyond his control scuttled this plan and Anthony was forced to make a comeback to equine veterinary practice, his training pursuits reduced very much to part-time.
However, he remained very involved in British racing, both through performing raceday veterinary duties at Chester and Bangor, and working in a veterinary capacity treating some of the UK's best racehorses, including one Grand National and several Cheltenham winners.
Most importantly, on 9th April 2011 the stable's sole charge Gorge ran a very respectable midfield at Aintree in the race after the Grand National itself, thus making Gorge the first Australian horse this millenium to run at Aintree on the biggest day of jumps racing in the world.
Anthony later campaigned Gorge successfully over the bigger fences winning first up in Novice company at Taunton and bagging the prestigious Prince of Wales trophy at Ludlow, as well as weighing in at the massive King George meeting at Kempton and placing at the Uttoxeter's famous Midlands Grand National meeting.